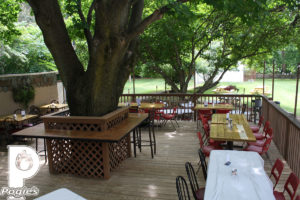 You and your guests get use of our clubhouse for the day which includes our  dining room and lounge. From April 1st -October 31st we'll throw in our over-sized deck, and big back yard all at no extra charge. Set up some volleyball, have a bonfire, and play some corn hole. There is something for everybody! If you're worried about the weather ask about our tent and canopy options for outside seating.
All your food will be cooked and served on site by Pogie's Catering Staff. We offer coffee, tea, and soft drinks, but anything else is BYOB. We'll help you keep your drinks cold and you can even bring your own stocked coolers!
Click Here to view Pogie's Clubhouse on Jefferson Rental Terms and Conditions.
Pogie's Clubhouse on Jefferson Rental Days & Hours
Rental is for 8 hours during the listed times below,
Times listed are when light decorating may begin and when the party must come to an end. All decorations must be pre-approved by Pogie's
Tuesday10 -10 pm
Wednesday 10-10 pm
Thursday 10-10 pm
Friday 10 am -10 pm
Saturday 10 am -10 pm
Sunday 10 am -10 pm
Schedule your free appointment for event and menu consultations 440-864-4654.
Clubhouse Seating
Indoors:
Plated -40, Buffet-36, Reception-43
Outdoor Seating: 
Outdoor seating varies based on needs. Call to discuss seating options for 100 or more.
For larger outdoor parties April 1st – October 31st ask about our outdoor seating and large tent options
Pogie's Clubhouse is mixed indoor / outdoor seating April 1st – October 31st
Pogie's Gift Certificates

Any amount - any occasion
Use for catering or special events
Seating and availability for Pogie's Special Events are limited so sign up for our newsletter and check our website and Facebook often to make sure you don't miss out.