Reverse raffles, night at the Races, and silent auctions can earn big money for your group. Weather at The Amherst Historical Societies Grange Hall right next door or at the hall or venue of your choice we'd be happy to cook for your group and help you earn big.
Night at the races with a Pogie's bbq buffet? That's money. Reverse raffle with a spread full of Pogie's hot appetizers and party trays? That's money. Silent auction benefit with hearty entrees like fresh baked salmon, prime rib, and hand stuffed chicken breasts? That's money.
From casual to elegant, Pogie's catering can fit any atmosphere. Give your guests the best around and keep your budget where it needs to be. We have something for almost every occasion. At Pogie's we know it's not a party with out good food, and that's why we're here.
Click below to view our Summer and Winter Menus. Call 440-864-4654 today for your free consultation.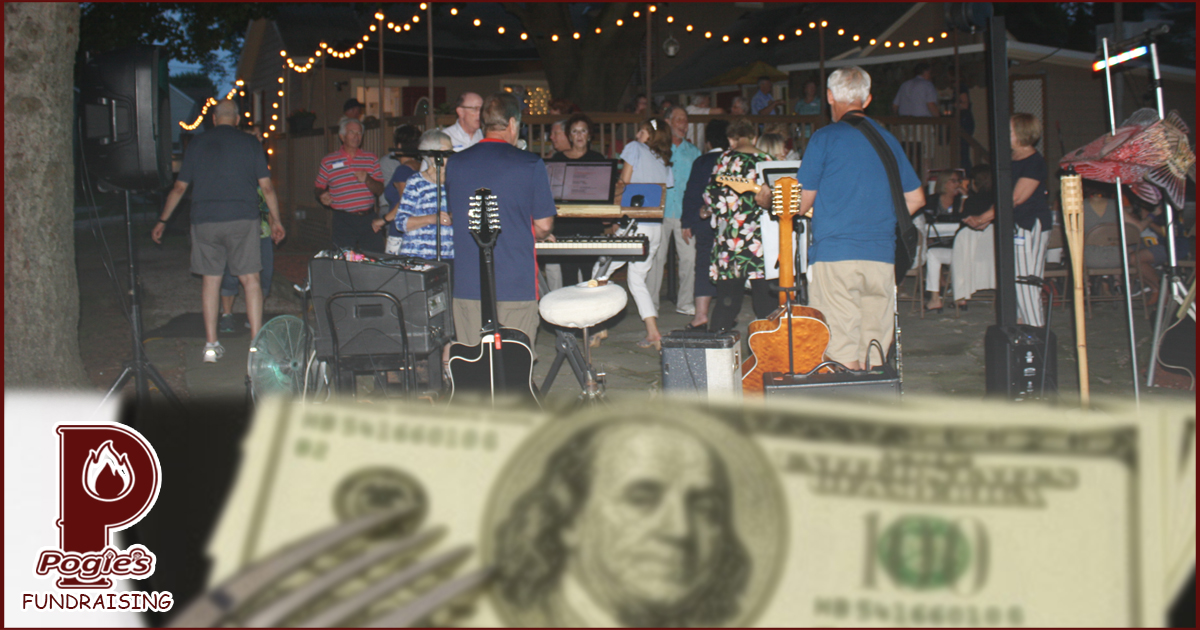 Pogie's Clubhouse features a big back yard and oversized deck that give your event a block party cookout atmosphere. Our patio is well suited for live music, we also have indoor-outdoor speakers to play any playlists or cd's of your choice. Classic Pogie's food grilled onsite always adds a bit of flair as your guests can watch their food being cooked as they relax on our oversized deck under our giant shade tree.
Turn your fundraiser into a back-yard carnival funfair! We'll work with you to select a variety of back yard games of skill your guests can play in our big back yard. Play for prizes or just for fun. Ticket sales from games are a great way to boost your organizations fundraising for the night and help add a fun theme.
Games and attractions are subject to availability.
Bounce Houses $250
Basket Ball Shoot Out $130
Soccer Goal Kick $55
Golf Challenge $55
Wheel-o-Chance $80
Inflatable Twister $170
Dunk Tank $260
Small Test of Strength Hammer Bell $75
Balloon Pump Racers $85
Table Top Bowling $65
Bean Bag Knock 'em Down $40
Ring Toss $40
Plinko $40
Duck Pond $75
Milk Bottle Knock Down $25
Balloon Dart Toss $20
Quarterback Challenge $20
Cotton Candy $75
Pop Corn Machine $75
Snow Cone Machine $75
Add a gift Basket Raffle Table to any event and we'll provide extra tables to display your baskets free of charge.
Fun Times and great food for a good cause
Call today to set up your free event consultation 440-864-4654