POGIE'S SUNDAY BRUNCH: AMHERST HISTORICAL SOCIETY BENEFIT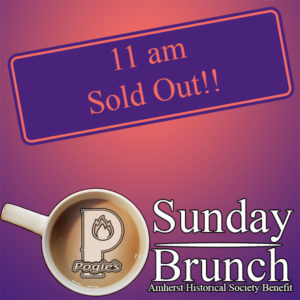 As the winter chill sets in, we'll open up our dining room on February 24th for Pogie's Sunday Brunch. Come and warm up with us for Sunday Brunch at Pogie's Clubhouse, because it's always hot in our kitchen.
There will be two seatings, an early seating at 11 am or a late seating at 1230 pm. Tickets are available online HERE or by calling 440-864-4654.
Pogie's Sunday Brunch will feature a classic brunch buffet done Pogie's style, with eggs cooked to order, specials like Eggs Benedict and Florentine, made to order omelets & breakfast sandwiches, and all the coffee you can drink.
If breakfast is the most important meal of the day, then Sunday brunch is the most important meal of the week. Pogie's invites you to come relax with us at Pogie's Sunday Brunch.
Pogie's Sunday Brunch will benefit The Amherst Historical Society.
Pogie's Sunday Brunch Includes
~On the Buffet~
Bacon & Sausage
Herb Roasted Redskin Potatoes
French Toast & Pancakes
Homemade Sausage Gravy
Pastries & More!
~Fresh Made to Order~
2 Eggs Any Style
Build Your Own Omelets
Eggs Benedict or Florentine
Build Your Own Breakfast Sandwich
White or Wheat Toast, or Toasted English Muffin
~Beverages~
Coffee, Decaf Coffee, Hot Tea,
Milk, Orange Juice, Sweet Tea, Lemonade
Reservations with advance ticket sale only!
Sunday February 24th
440-864-4654 or Order Online!
11 am or 12:30 pm
$15 for adults
$10 Over 62 and Under 12 (under 3 free)
Seating is limited!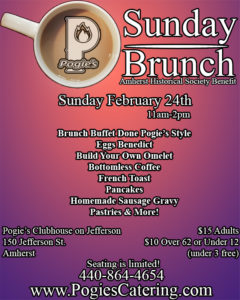 Pogie's Sunday Brunch: Amherst Historical Society Benefit Facebook Page!